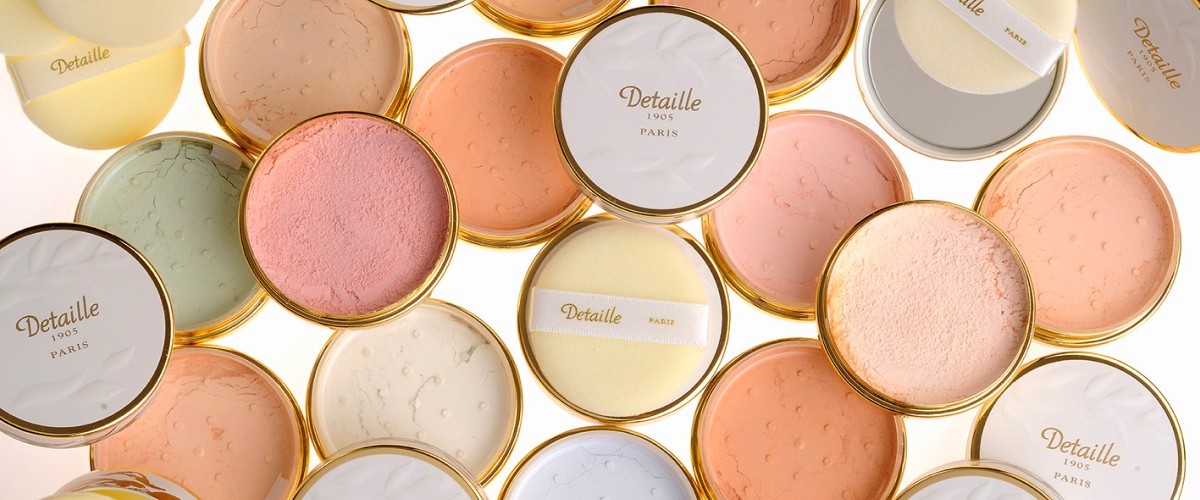 Powders
A delicate cloud of the iconic rice powder
The magical power of the powder.
A touch of powder …and the complexion is even and matte ; in a word : perfect. Loose powder is the ultimate touch to set make-up and your best friend to ensure a fresh complexion all day long. Powder your face is definitely a very feminine gesture, for a highly desirable women.
The loose powder by the Maison Detaille remains faithful to the original formula and packaging of the early 1900s.
Genuine cosmetic rice powder, it perfectly catches the light, beautifies complexion and leaves a sophisticated yet natural smooth-as-silk finish on the skin.
This fine and light powder, formulated with natural mineral ingredients reveals an exquisite fragrance trail featuring heliotrope : the perfect loose powder for both women and professional make-up artists.
Available in a wide range of shades, the loose powder Detaille fits every skintone. The three correcting colours enable to balance and reduce imperfections (correct rendez or dull complexion for instance).
Powder is magical.
A touch of powder and complexion is unified, mattified and enhanced. Loose powder is the finishing essential to make-up; it is the skin's friend. Powdering oneself is the most seductive and feminine gesture.
The real Detaille powder retains the traditional formula dating back to 1900, in its gold and iridescent box containing a sieve and powder puff. Real rice powder, it catches light, enhances the complexion and makes the face look softer. Its natural mineral components, its finesse and lightness, its subtle fragrance of heliotrope are highly popular with women and professional make up artists. Available in 14 shades, its colours range adapts to all complexions, subtle shades offering each woman a colour suiting her complexion, without forgetting corrective powders to erase minor red or dull spot problems.