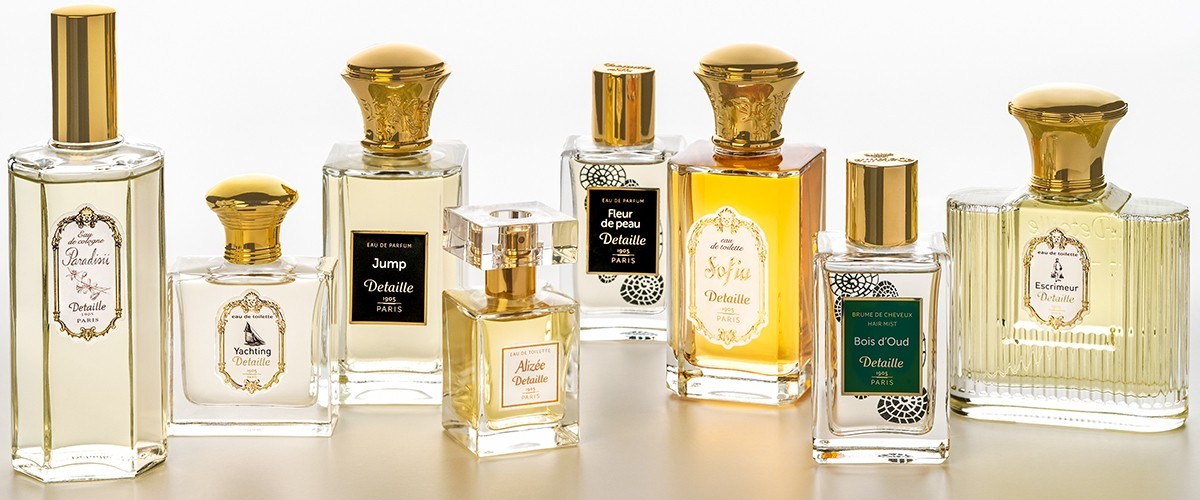 Perfumes
Directly inspired by art, with passion and respect for natural quality materials, Detaille creations are pure emotions, true to the tradition of the Haute Parfumerie Française since 1905. 
A fragrant collection that offers today Eaux de Toilette, Eaux de Parfum and Colognes to seduce both women and men, in search of rare and sophisticated moments. A luxury for oneself.
From the juice to the perfume bottle, the Maison Detaille expresses a classicism that is resolutely modern and definitely elegant:  the signature of timeless chic, with a free and visionary spirit. 
For more than a century, the Maison Detaille has been designing unique creations imbued with emotion: the beauty of tradition for a neo-classical look twisted with an assertive modernity.
The very essence of the Countess of Presle's visionary spirit, whose "Belle Epoque" elegance keeps on inspiring the brand today.
Colognes, Eaux de Toilette, Eaux de Parfum: each and every creation is a true experience, a strong creative bias, a unique mix of emotion and elegance…for memorable moments.
A modern and distinctive luxury that allows women and men to assume their identity, revealing their different facets, and playing with their desires. 
Jasmine flowers, Bulgarian rose, oud wood, saffron, patchouli: the Maison Detaille uses the most sophisticated yet natural raw materials of the Haute Parfumerie Française for a « chic » and timeless olfactory signature.
Rare perfumes, to please the finest connoisseurs.
Fresh aromatic, powdery floral, oriental, woody, chypre… Those olfactory creations are much more than a perfume: real beauty preparations, a well-kept secret, a delight for the senses.
Maison Detaille perfumes can be either resolutely feminine or intensely masculine… while the Eaux de Parfum, playing with duality are designed to seduce both women and men.