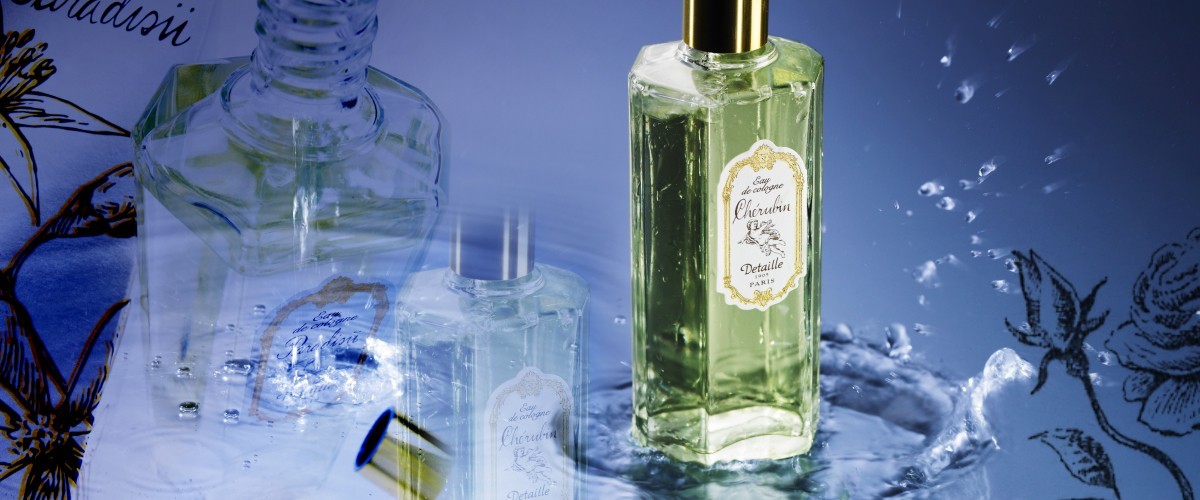 Colognes
Eau de cologne : A breath of fresh air
Original and intimate creations, the Maison Detaille reinvents the Colognes around finest ingredients that blend together in a harmony of pleasures.
Chérubin, Fleur, Paradisii, discover three olfactory journeys around freshness and tender sensuality, where floral, powdery or woody facets enhance the dominating hesperidium hints.
Sparkling and light fragrances like an enchanted interlude in the midst of a garden.
Chérubin, the delicious sensations of childhood. A delicate and fusing Cologne, enhanced with musky notes to celebrate innocence and purity. A fragrance as fresh as the first morning of the world.

From the very first moments, Moroccan orange blossom and Sicilian lemon blend together in a refreshing citrusy bouquet.

Then the pure and splendid Bulgarian rose combined with the delicious California orange offer a floral and juicy heart.

A delicate and sensual trail with a cloud of white musk and heliotrope: the olfactory signature of this caressing fragrance.

Chérubin, the fragrance of sweet temptations.

Fleur, a refreshing pause in a summer garden. The subtle scent of citrus. The sensuality of a sunkissed skin. Blooming flowers in warm and sunny days. 

A fusing and tangy opening where Paraguayan petitgrain blends with Sicilian bergamot in a very citrusy harmony.

Then, the Cologne unveils a fresh and soothing heart, where the refined lavender from Grasse paired with geranium and mint release a sweet feeling of  serenity. 

Its trail becomes deeper and more sensual, the signature of Indonesian patchouli.

Fleur, a sensual interlude in a scented garden.

Paradisii, the exhilarating sensations of a sweet escape to Italy, enjoying luxuriant gardens by the sea. A radiant and sparkling Cologne warmed by refined and seductive bottom notes, for an unforgettable trail. 

A sunny opening with a fusing trio of citrus, Italian mandarin, Spanish lemon and Sicilian grapefruit.

The green freshness of mint and cyclamen unveil a delicate and tender heart.

Patchouli, sandalwood and vanilla leave a sensual and fascinating trail. 

A sophisticated and radiant Cologne, a journey of the senses. Paradisii, a distinguished olfactory signature where sweetness contrasts with character.